ALASKA Leads the Nation
Alaskans have often had to stop and find their own way through challenges. How often has a federal mandate come down on Alaskans who find that the "cookie cutter" solution that works everywhere else,simply doesn't work here. They have always had to be ready to embrace new ways of doing things. Innovation brought on by necessity is the Alaskan Way, the S.O.P. in many cases.
This is the case of Alaska Department of Administration this past year. When COVID shut things down nearly a year ago, everything that was normal in the workplace was gone. After first being knocked down by Alaska's economic situation, then came the uncertainty of the pandemic. State workers would not be able work in confined cubicles any longer. Working together, as they had always done, was now dangerous. Faced with this new reality, the employees of the DOA of Alaska made lemonade out of lemons, accomplishing what Commissioner Thish has called a "government miracle to which all credit goes to the government employees of the DOA" It has became a role model for the rest of the nation.
Realizing that working in offices would no longer work, they envisioned a new way of doing things - telecommunications. Working remotely was nothing new, but Alaska had lagged far behind in its implementation. The pandemic challenged the department to adapt and adapt fast. When they began they were behind all other states in setting up this infrastructure. "We could not even document-sign." Said Commissioner Tshibaka. There was just one other state that was attempting to do this with the COVID impact money they were receiving.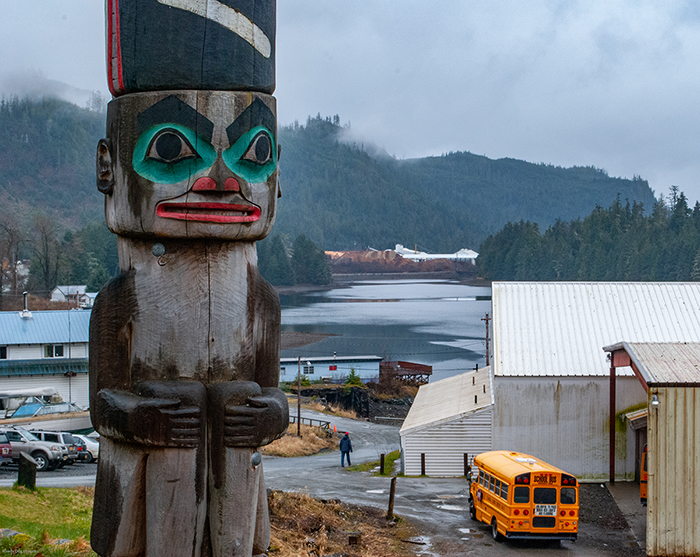 In response to the challenge, the DOA completely embraced and implemented the idea of telecommuting within the short time they had to spend the money. They used all of the $52 million of federal COVID aid they received in March of 2021 to transform the whole department. Of the 20,000  employees that worked for the state of Alaska from a desk before COVID, almost no one was telecommunicating when the virus took over. There was no institutional knowledge to rely on. There was no model any where in the US on how to ramp up this quickly. 

A plan was hatched and implemented. 128 office functions were identified that had to considered in the switch to telecommuting. More than 4000 laptops were ordered so that workers could work from home. IT had to pull that altogether, HR had to be sure that the work done at home was as valuable as the work done in a brick mortar work environment, and it had to protect the staff from the deadly threat of the virus.  The use of paper, as way of documenting things, was history. It all needed to be converted to digital in order to use it. What emerged was a program that protected workers while still maintaining those collegial associations that drive group successes. It saved the department money and it expanded the workforce from which talent could be brought into the department.

By all these measures and more the transition has been a success. Now there are more than 5000 state workers effectively working from home. The super spreading event that the department had  feared, never happened. Staff were no longer required live in the town that the office is in, but could remain home where their family's were located. A move to a major town is no longer a requirement,  and within 2 years most remote Alaskans are scheduled to have broadband available. So someone like Leslie Isaacs can live in Klawack on Prince of Wales Island in the land that inspires him, and where his extended family can best support him, and still work and participate at highest level of decision making at the Department of Administration. 

Says Isaacs, "if you were to look for a silver lining in the cloud of the pandemic, teleworking and being able to find qualified people to fill State of Alaska positions who live in our rural areas, is it.

It has not only become a model for the way that other departments can follow, but the achievement is seen by other states as an example for those trying to build their telecommuting plan like what the Alaska DOA has done in just a few months.