Juneau Stores Get "Price Checked"
(JUNEAU, ALASKA) Grocery Stores in Juneau all have a reputation, but what are the facts? Fisherman Pete headed out to take a look for himself last week and went "Grocery Shopping." at Foodland, Fred Meyer, Super Bear, and Safeway. 25 common items were chosen beforehand roughly replicating a weeks worth of groceries for two people. The prices are regularily charged prices even if the item was on sale. Most brands and items were all the same so the only difference would be the actual price.
Before we get into the pricing its important to consider the cost of transporting the goods up to Juneau and the destribution system in place. That is a key element in the local pricing. Super Bear and Foodland are both supplied by CISCO. Fred Meyer and Safeway have their own supplier and own products in many cases.
Another factor in choosing a grocery store is the novelty of its items. Does a store carry unique items or otherwise provide a service the others do not. How often does a store have sales, how many items does a store put on sale, and how deep are the savings? Do they carryout the items for you? Do they sympathize with you if you forgot your wallet in your car? Do they even acknowledge you?
My biggest issue is with the time you spend in line. Can you breeze right in at out? I realize that depends on the time of day and whether the management is willing to work front line to move things along when it gets busy. What is not acceptable is understaffing and working the check stand staff to exhaustion. I did not see or ecperienced long waut times on my trips but it is factor to consider.
The other factor is convenience. Is it on the way to where ever you are going? You should add in $3.1/ gallon avergage price to your own equation . If you need to drive 20 miles to shop, you have to consider that and the time its takes from your day.
So here we go !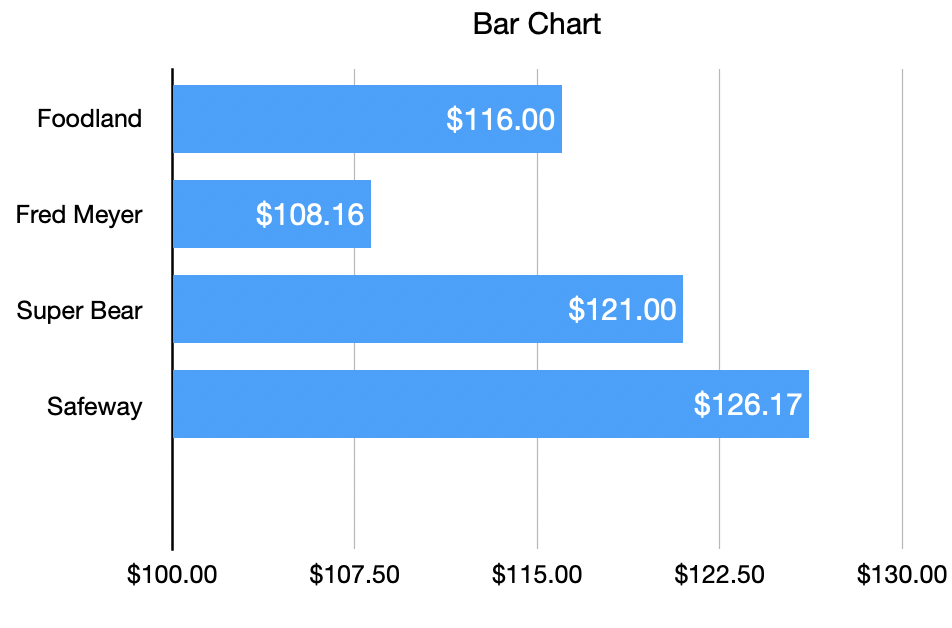 Are you surprised? Many of you will ask why wasn't Costco considered. The answer is that we could include COSTCO if we agreed on buying for a longer period of time. Everybody knows that if you buy it in bulk you usually get a price break. The more mouths to feed, the wiser it is to buy in bulk. Another analysis might include a larger comparison. Maybe we include outlying communities and compare Juneau to Ketchikan, Mat-su, Anchorage, and Seattle.
All of the stores had "rewards" programs for frequent shopping at their stores. Some were easier to use than others. Some offer instant bargains, some require coupons, some give you points. Fred Meyer seems to be the hardest to cash in. Their time windows never seem to line up for me and I find my loyalty points expiring to worthlessness. There idea is to gather as much info about you and your buying habits with one hand while dangling prizes in front of you with the other.
Another criteria that you should consider is the amount of civic investment that the store has locally. Do they support local groups, charities , and youth sports? Being a good neighber is important to Alaska Communities.